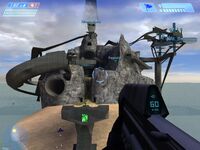 Yoyorast Island is a Halo: Custom Edition custom map.
It has become a commonly played and enjoyed map, due to it's funky and original design (which is clearly for the Race gametype) and it's fun stuntjumps and vehicles. There are also secret locations hidden that can be accessed by crouch-jumping in certain locations, making it a more casual playing map than competitive.
Ad blocker interference detected!
Wikia is a free-to-use site that makes money from advertising. We have a modified experience for viewers using ad blockers

Wikia is not accessible if you've made further modifications. Remove the custom ad blocker rule(s) and the page will load as expected.